What Happens Anywhere, Happens Everywhere: Global Ripple Effects of Losing Roe
It's been a year since the United States Supreme Court reversed Roe v. Wade and eviscerated nearly five decades of federal abortion protections. The day the opinion was leaked, on the steps of the nation's highest court, PAI's President and CEO Nabeeha Kazi Hutchins warned, "What a mess we have on our hands — and the world is watching." Sadly, she was spot-on about how backsliding on sexual and reproductive health and rights (SRHR) protections in the U.S. would have a chilling effect around the world.
PAI and our funded partners in 30+ countries have seen the detrimental ripple effect of losing Roe-era protections through the Dobbs v. Jackson Women's Health Organization ruling on June 24, 2022. It bolstered the anti-abortion movement, derailed progress toward universal SRHR and set a precedent for regressive laws worldwide. In response, PAI has only redoubled our efforts to ensure the rest of the world moves in a more positive direction to protect and advance essential health care and human rights.
In anticipation of this troubling anniversary, PAI hosted an important dialogue about the state of reproductive health in the U.S. and its impact abroad between Ms. Kazi Hutchins and Representative Jan Schakowsky (D-IL) — Courageous Conversations: Advocates Advancing Reproductive Rights.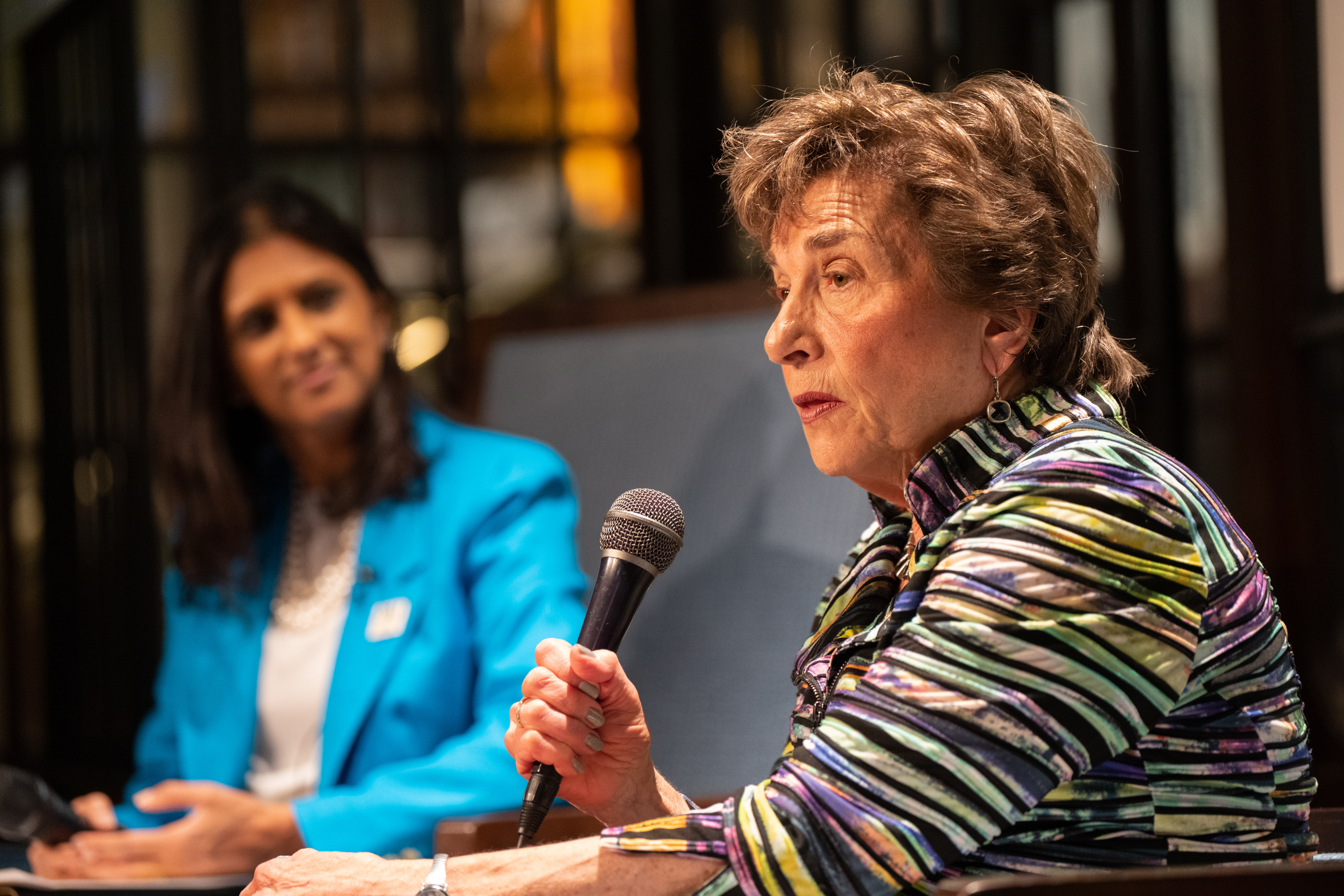 Serving in Congress since 1999, Rep. Schakowsky is a staunch advocate for reproductive rights and has long championed bills that seek to strengthen and expand access to contraception, protect providers of women's health care and safeguard people's right to make their own reproductive decisions. This includes leading the Abortion is Health Care Everywhere Act, which seeks to repeal the Helms amendment, so that U.S. foreign assistance can be used to fund safe and legal abortion services in other countries. Following her introduction at the event, Rep. Schakowsky made a point to highlight how she was the first person to be arrested for protesting at the Supreme Court the day Roe was overturned, proudly noting, "I'm a badass."
While the immense damage caused by the reversal of Roe quickly became apparent domestically, less attention has been paid to the negative global ramifications — enabling increasingly anti-SRHR policies, bolstering anti-choice movements and, ultimately, harming communities throughout the world. Rep. Schakowsky summed it up as, "We are such a small world, and what happens anywhere happens everywhere."
The interconnectedness of our world and strong influence U.S. policies have on global communities around the world is a key reason behind her efforts to pass the Abortion is Health Care Everywhere Act, which would appeal the Helms amendment that came into force shortly after Roe was introduced. Rep. Schakowsky noted, "It is such an overreach, because even in countries where abortion is legal, if you're receiving funding from the U.S. government to support health systems, you cannot provide any type of abortion care or support."
Ms. Kazi Hutchins added, "It's not just an overreach on the provision of reproductive health services, it's an overreach on the resilience of community health systems that ultimately has a global impact." PAI has heard from civil society leaders in dozens of countries that they are witnessing this chilling effect in their own communities, where exported, anti-SRHR policies in the U.S. are eroding local health systems and the ability of health workers to do their jobs, alongside mounting threats to accessing mifepristone medication abortion, comprehensive sexuality education, LGBTQI+ health care and more — the impacts reverberate on a global scale.
Not only is mifepristone used for 53% of all abortions in the U.S. that take place in facilities, the World Health Organization classifies it as a lifesaving medicine for reproductive health — with nearly 100 countries having approved its use over the past three decades. The attack on mifepristone in the U.S. could easily have global ramifications, as countries that rely on the U.S. Food and Drug Administration as their gold standard are now more apt to revoke its use in their countries, which would further jeopardize the health and well-being of communities.
While the anniversary of the loss of federal abortion protections in the U.S. reminds us that there's much work to do ahead, Rep. Schakowsky also felt great optimism for the future and noted how in many Latin American countries, for example, abortion rights are being expanded. "Women around the world are feeling more empowered … standing up and speaking out, more than I have seen in a long time." She added, "I do feel optimistic … I think so many people are becoming more and more enlightened, with the help of organizations like [PAI] and brave advocates speaking out and organizing. I think this is a moment of opportunity that we have to take."