Advocacy, Partnerships and Local Action: Amos Mwale from Centre for Reproductive Health and Education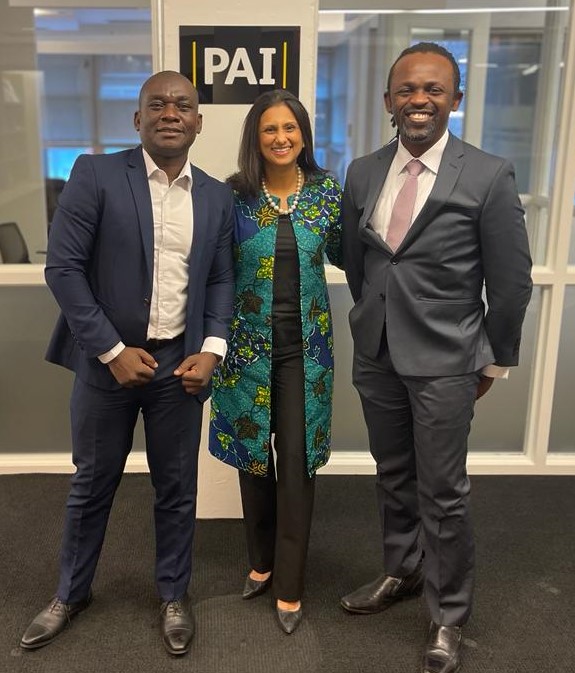 Amos Mwale, Centre for Reproductive Health and Education; Nabeeha Kazi Hutchins, PAI; and Adebiyi Adesina, PAI
On January 18, PAI welcomed Amos Mwale, founder and executive director of the Centre for Reproductive Health and Education (CRHE) in Zambia, in our Washington, D.C., office.
As part of a high-level roundtable session facilitated by Adebiyi Adesina, DrPH, PAI's director of health financing and health systems strengthening, Amos shared priority considerations for sexual and reproductive health and rights (SRHR) advocacy, reflections on the CRHE-PAI approach to partnership, future investment needs and advice to development leaders who are moving toward localization strategies. Amos also discussed the critical role of civil society organizations (CSOs) in advocating to achieve and sustain policy wins for SRHR, such as the achievement of Zambia's inclusion of family planning services in its National Health Insurance Scheme.
Three key takeaways stood out:
Use evidence, accountability and a coalition approach to drive SRHR policy change. Driving policy change through strategic advocacy has been a CRHE hallmark. One such win, shared among CSOs, policymakers and SRHR champions in Zambia, is the inclusion of family planning services in Zambia's universal health coverage benefits package — a major country-level advocacy achievement for SRHR in 2020. Zambian women will receive contraceptive pills, implants, injectables, intrauterine devices and emergency contraception for free at all accredited facilities in the program. Amos noted that CRHE's role in amplifying evidence and calls to action, holding policymakers accountable to their commitments and working in coalition for coordinated advocacy action, were among the contributors to enable this win for communities in Zambia.
"The achievement for family planning in Zambia can lead to comprehensive SRHR coverage, and our advocacy efforts must build toward this. The door is open to do more."
Policy wins are important but do not guarantee access. Amos emphasized that efforts of local organizations, like CRHE, coming together to inform and advocate for inclusion of family planning in Zambia's national health insurance scheme is a testament to the important and collaborative role that CSOs can have with government agencies, reflecting the voice and needs of community. However, a policy win, while important, is only part of the equation.
When policy wins are achieved, investment in advocacy and local organizations should be redoubled to ensure that policy promises are delivered and communities have access to the services, information and benefits included. Investments in the demand side of the equation are essential to demonstrate that these government and policy investments are not only being utilized but are also desired in the long term. Outcomes from universal access to family planning and reproductive health are only realized when access is fully achieved.
"Policy wins do not guarantee access to family planning or other SRHR services. As CSOs, we must drive community demand for services, and the investment to do that is essential."
As localization emerges, listen to local Indigenous CSOs.
From the outset, local CSOs have worked in partnership on national, regional and global stages to maximize efforts, share in learning and exchange and build coalitions to propel calls to action in coordinated manners. Amos noted that localization requires time, space and the right mechanisms to engage with, listen to and act upon priorities that local Indigenous CSOs have been advocating for over years and decades. In order for localization strategies to be equitable, non-extractive and aligned with local priorities and achievements, the points of view of such organizations are needed.
"Large donors and institutions should listen to local organizations that have been leading the work in order to inform localization strategies. We should have a seat at the table so localization intentions can yield success."
With more than 120 funded partners across 36 countries, of which more than 90% are local Indigenous organizations, PAI embraces and is committed to creating open spaces for learning, sharing and propelling the expertise of our peers around the world. As always, local partners know best and context and equitable relationships matter. PAI and CRHE have collaborated for over 10 years in support of the global movement to achieve universal access to SRHR. Hear more from Amos by watching below.