PAI Announces New Board Chair and Executive Committee
For Immediate Release
Media Contact
Katie Unthank
Director of Strategic Communications
---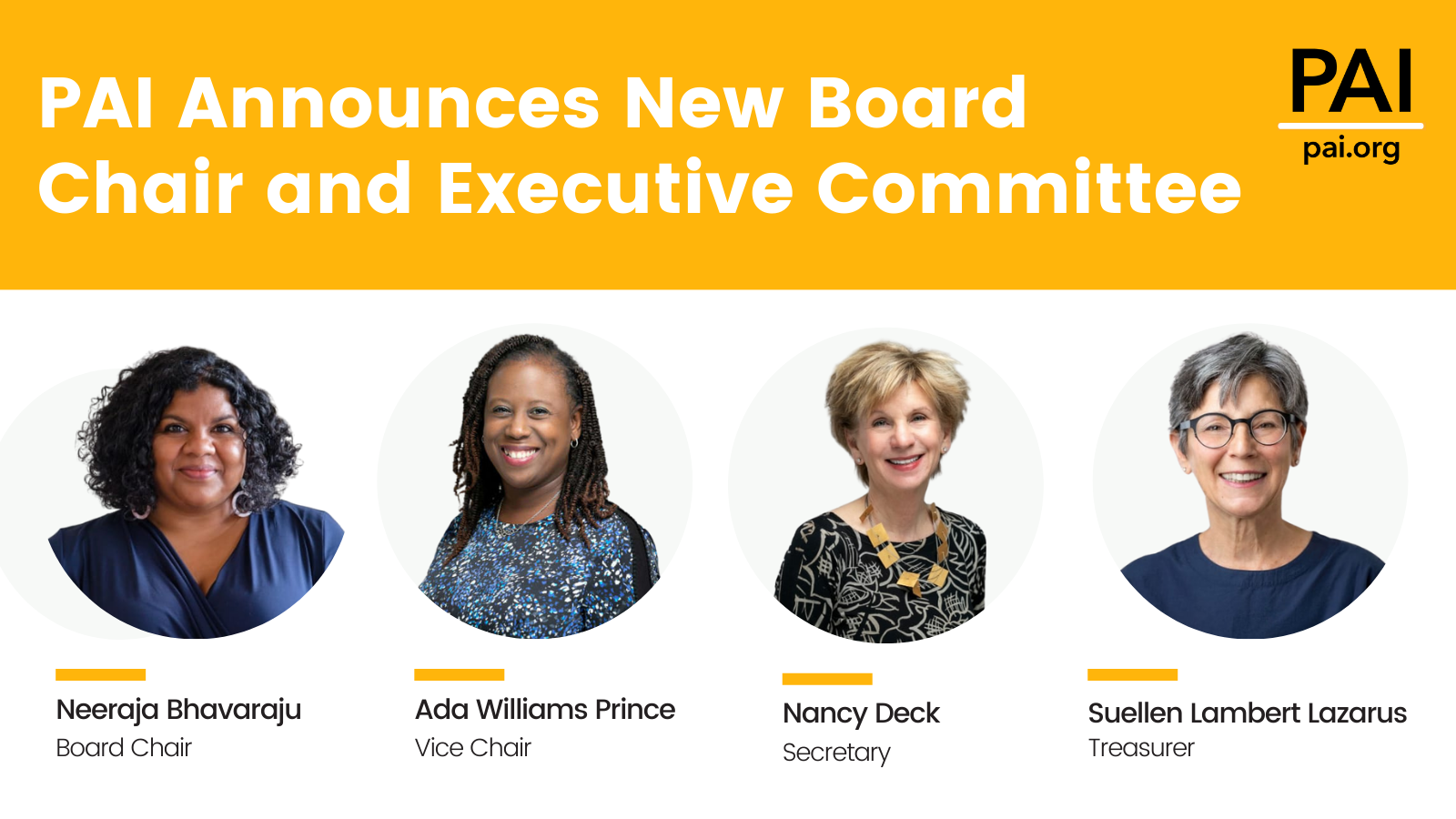 PAI is pleased to announce the new chair of its board of directors and the new board executive committee. Neeraja Bhavaraju was recently elected as chair of PAI's board along with new executive committee members Ada Williams Prince as board vice chair, Nancy Deck as board secretary and Suellen Lambert Lazarus as board treasurer. PAI President and CEO Nabeeha Kazi Hutchins also serves on PAI's executive committee. The new members of the executive committee will serve a two-year term through December 2023.
"It is such an honor to support PAI in this new role," said Ms. Bhavaraju. "Protecting the sexual and reproductive health and rights of all people has never been more urgent — and PAI and its many partners around the world are absolutely critical to the fight ahead."
Ms. Bhavaraju succeeds prior Board Chair Kimberly C. Brooks. Consisting of 12 members, PAI's board of directors provides strategic support, fiduciary oversight and governance direction to help achieve PAI's vision, mission and goals. Ms. Bhavaraju is a founding partner of Afton Bloom and was a director and co-lead of the global health practice at FSG, working with foundations, nonprofit organizations and major corporations to develop strategies for equitable change. She has had a distinguished career in sexual and reproductive health and rights (SRHR) advocacy and research, advancing HIV/AIDS prevention programs for women around the world and serving as a champion for access to menstrual health and hygiene services as central to gender equity. She has published research on a range of SRHR topics, including the imperative to introduce new woman-controlled HIV prevention methods and the business case for comprehensive reproductive health.
"We are thrilled to have Neeraja, who has dedicated her career to achieving SRHR gains for women, youth and at-risk communities around the world, as our new board chair," said Nabeeha Kazi Hutchins, PAI president and CEO. "Our board chair, executive committee and the entire board represent a wealth experience which serves PAI well as we embark upon the next era of our work to strengthen and sustain U.S. and global SRHR advocacy, support our global network of more than 120 civil society advocacy partners in 36 countries and advance PAI's mission to achieve universal access to SRHR."
Ms. Bhavaraju has worked with purpose-driven leaders and organizations across sectors to develop strategies for equitable change. She has advised foundations, from the Bill and Melinda Gates Foundation and the William and Flora Hewlett Foundation to nonprofit organizations, such as FHI 360 and EYElliance, as well as numerous major corporations. Ms. Bhavaraju succeeds prior Board Chair Kimberly C. Brooks.
Board Vice Chair Ada Williams Prince has served as an international development and humanitarian programs leader with over 15 years of experience. She has directed philanthropic strategy and portfolios for the Marguerite Casey Foundation and Pivotal Ventures, where she currently serves as director of program strategy and investment. Ms. Williams Prince also has extensive experience working with refugees and immigrants globally on a broad range of issues, including health and well-being, economics, policy and education.
Board Secretary Nancy Deck spent her career in Washington, D.C., as a senior marketing executive leading corporate brand strategy, consumer marketing research, planning and execution and customer loyalty insights and programs for several corporations, including Hilton Worldwide, Sallie Mae, MCI and Claritas. Ms. Deck recently retired from Hilton Worldwide, where she held leadership roles for seven years in global brand marketing strategy, research, planning and execution for Hilton and its family of hotel brands and for the Hilton Honors loyalty program.
Board Treasurer Suellen Lambert Lazarus lives in Washington, D.C., and has had a long career in international development and private sector finance. At the World Bank Group, she helped develop and implement the Equator Principles, the international financial standard for assessing and managing environmental and social risks in projects. Ms. Lazarus ran the Syndications Department at the International Finance Corporation, the private sector arm of the World Bank and was advisor to its CEO. She was also senior advisor at ABN AMRO Bank, advancing the bank's sustainability and corporate social responsibility agenda.
Read more about PAI's entire board of directors here.
About PAI
PAI champions policies that put women, youth and at-risk communities in charge of their sexual and reproductive health and rights. We work with policymakers in Washington, D.C., and our network of more than 120 funded partners across 36 countries to remove roadblocks to access sexual and reproductive health services and support. For nearly six decades, PAI has helped communities succeed by upholding their basic rights.
To learn more, visit www.pai.org and follow us on Facebook, Twitter, Instagram and LinkedIn.
###